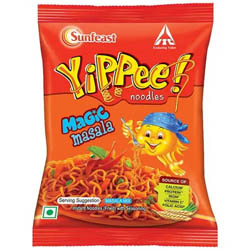  
Sunfeast YiPPee! Magic Masala, Instant Noodles , Rs.5 | Pack of 11
Delicious instant noodles that are long, non-sticky, and tasty. Unique round block that guarantees long, non-sticky noodles that remain slurpy. A delectable blend of Indian spices for a magical masala taste, with no artificial flavours. Goodness of real vegetables and a source of 5 essential nutrients – Calcium, Iron, Vit C, Folic Acid, Protein
Perfect for a quick meal or an evening snack.
The best efforts are made to keep the accuracy of the information. Consider the point that the information shared in the description can be different from mentioned on the product packaging. It is advised not to solely rely on the information shown here. It is advised to the buyers to read out the labels, warnings, and directions given the packing of the product. Before, using the product you should make sure how to use it. For additional information related to the product, it is advised to make a call on the customer care number shared by the manufacturer on the packing of the product.